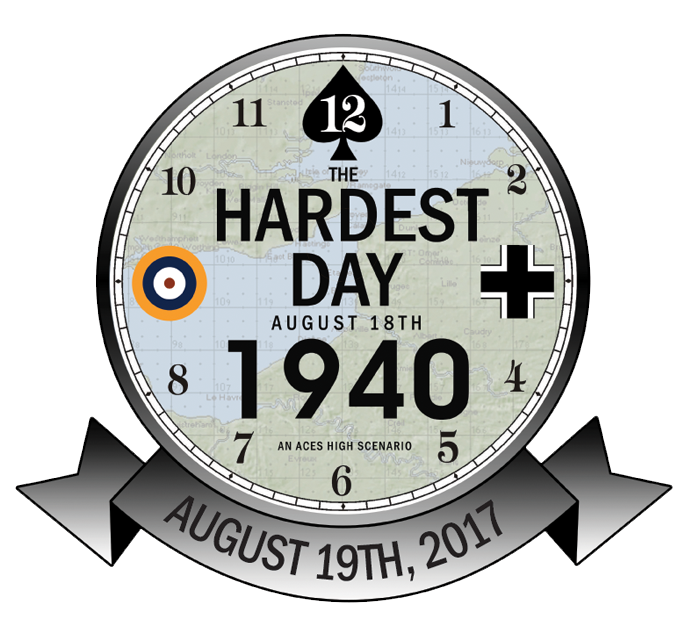 The Hardest Day - August 18th, 1940
Overview
Welcome to the Hardest Day - August 18th, 1940. This scenario will be a representation of that day's events using historical missions and squadrons from that exact day in the air war over Western Europe. This event will encompass all the major Aces High time zones and allow pilots and squads from all over the world to participate in an event that will span the frame of 12 hours!
That's right, this scenario will last 12+ hours from 12 PM Eastern to sometime after 12AM Eastern.
The CM Team will rotate staff to monitor uniforms and perform the necessary scenario tasks to make this the longest event ever ran in Aces High. The design will incorporate some changes in standard scenario gameplay to ensure the battle spans the entire 12 hours. The event will be broken into three 4-hour phases where specific objectives will have to be hit within those time phases.
There will also be 10 minute flight windows that will open and close every hour to allow all pilots to fly multiple missions during the event. Ideally, each phase of the scenario will have a command staff that will all cooperate together throughout the event and will work together to accomplish the objectives of the scenario.
Writeup:
http://www.ahevents.net/index.php/events/scenarios/setups/49-european-theatre/1216-the-hardest-day-august-18th-1940
Registration:
http://www.ahevents.net/index.php/scenario-registration