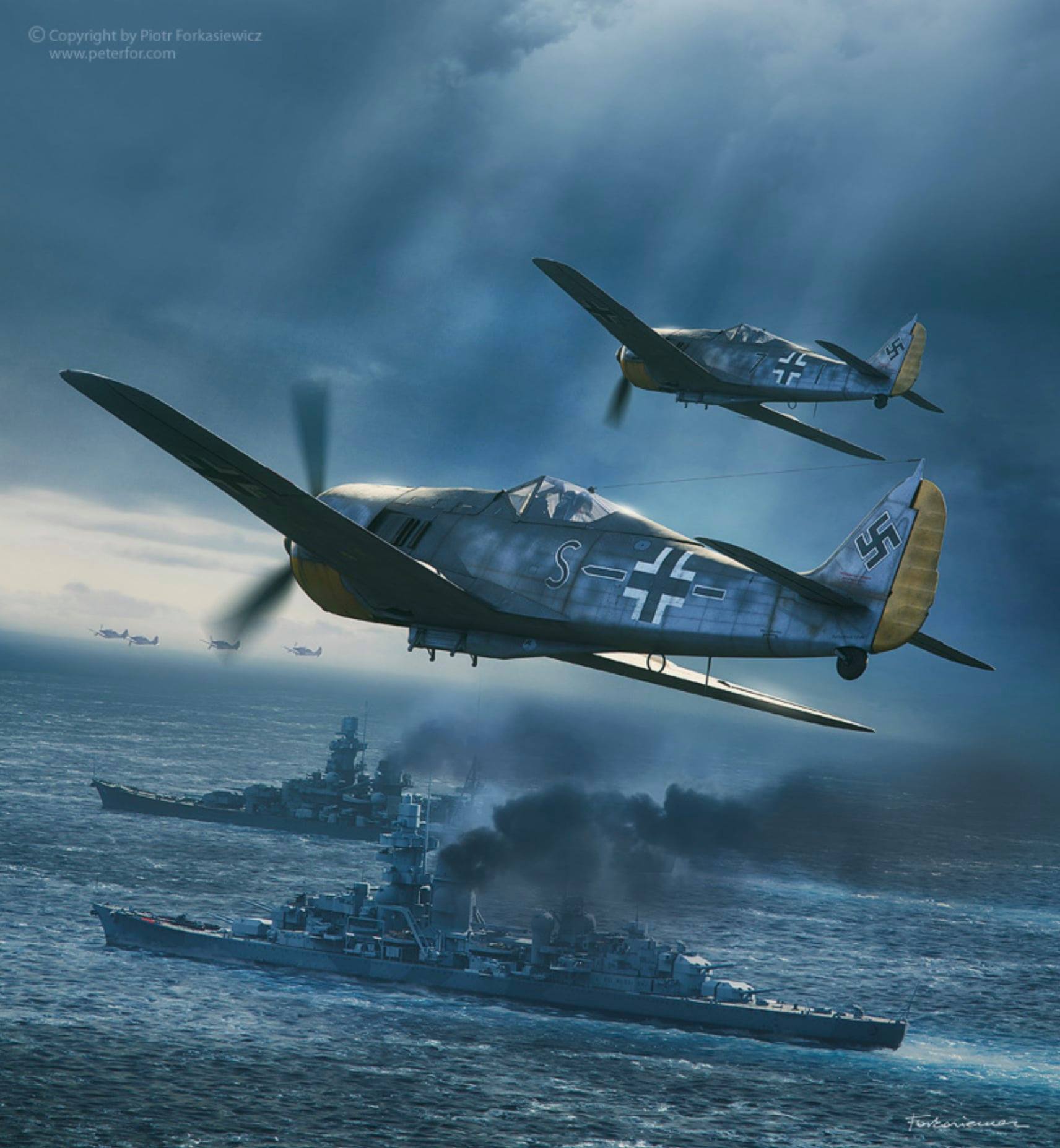 Shortly after Midnight on February 11th 1942, The German Battleships Scharnhorst and Gneisenau, along with the heavy cruiser Prinz Eugen set sail from Brest, France under the cover of darkness and poor weather. Instead of sailing West to stalk the North Atlantic Convoy routes they were ordered to redeploy to Kiel, Germany through the straits of Dover.
Dubbed Operation Cerberus, Hitlers plan would have the three capital ships work in strict coordination with the Luftwaffe to protect them the entire route. On the opposing shore, The RAF and Royal Navy had anticipated a "Channel Dash" and had a complex plan in stopping the German warships that involved secret agents in the port of Brest, Submarine pickets outside of the harbor and RAF and Fleet Air Arm aircraft on constant patrol.
Despite all efforts to monitor the Battleships, the British failed to catch the ships leaving port and wouldn't find them until 11:30 that morning, already having passed through the straits of Dover. Less than an hour later the first attacks would begin with Swordfish torpedo bombers, followed by Bomber Command Halifaxs, Manchesters, and Stirlings later that afternoon.
Raid after Raid was launched, but all failed to cause serious damage. The RAF lost 42 Aircraft against the German Fleet but It wasn't until the Scharnhorst and the Gneisenau both struck mines that they were even damaged. Scharnhorst would head to Wilhelmshaven with damage that kept her in port for 3 months.
All three German warships would meet different fates by the war's end. Gneisenau was struck by RAF bombers just 2 weeks later in the drydock at Kiel. During her rebuild it was decided that she would be fitted with six 38 cm guns that she was originally designed for, however this idea was scrapped by Hitler after the loss of the Battle of the Barents Sea. Her guns were removed and used as shore batteries and she was sunk as a block ship as the Russians advanced on her port of Gotenhafen in 1945.
Scharnhorst would remain in drydock until July 1942 and in early 1943 would deploy to Norway with the Battleship Tirpitz. In December 1943 Scharnhorst would lead a task force of 5 destroyers after a Russian bound Convoy. In what would become the Battle of the North Cape, the Scharnhorst was engaged by the HMS Duke of York and sank on December 26th, 1943.
Prinz Eugen would deploy to Norway but would return to Germany after being torpedoed by the British Submarine Trident. As the Russians approached Prinz Eugen would sail for Denmark where she would be decommissioned and taken under control by the Royal Navy. Eventually she would be awarded to the US as war prize and later used in the Atomic Tests in Bikini Atoll. She would survive both Atomic tests, but would sink 6 months later after being towed to Kwajalein Atoll.
PLANE SET:

SPECIAL RULES:
20K ALT CAP FIGHTERS - ALL FIGHTERS
14K ALT CAP - ALL BOMBERS
Bombs Disabled - Fw 190A-5
Torpedoes Only - He 111H, TBM-3
Formations Disabled - He 111H
AIRCRAFT SCORING:

OBJECT SCORING:

ACE MISSIONS
Each side will have one mandatory Ace mission per frame. These frames will represent notable pilots of the time and theater. One pilot from each side will be designated an "Ace" Pilot. They must fly the Aces listed aircraft.
They will be scored as follows.
Ace Pilot = 20 Points
Ace Pilot Kills = 5 Points
So for example if an Ace Pilot is shot down they are worth 20 points to the other side. Likewise, every victory an Ace Pilot lands they will be rewarded 5 points.
ALLIED:
Frame 1 – (RAF) - (SPITFIRE IX) - Stanislaw Skalski - Skalski started claiming victories on the first day of World War 2 and with six victories against the Germans during the invasion of Poland was the first Allied Ace of World War 2. Escaping Poland to Britain, Skalski claimed 4 victories during the Battle of Britain with 501 Squadron. Skalski went on to fight in North Africa and Italy and later back in England and France and would accumulate 22.5 victories during the war. After the war Skalski was arrested for espionage in Poland by communist authorities. He was eventually released and rejoined the Polish Air Force. Skalski passed away in 2004 at the age of 88.
Frame 2 – (RAF) - (SPITFIRE IX) Hugo "Sinker" Throssel - Australian Throssel was commissioned as a Pilot Officer in early part of 1941. Throssels first victory occurred on 21st September 1941 when he shot down a Bf 109E over Le Touquet whilst escorting Blenheims. He then served with 129 and 72 Squadron until July 1942 when he was then posted as commander 611 Squadron. In the meantime his tally had reached 9 kills. In February 1943, Throssel was shot down by FW190s and crashed in the sea off Boulogne. Armstrong was credited with 12 kills during World War 2.
Frame 3 – (RAF) - (SPITFIRE IX) Stanislaw Brzeski - Brzeski started his career with the Polish Air Force and claimed one kill over Poland in 1939 before leaving for Britain. Initially a night fighter pilot he eventually would be placed with 303 Squadron where he would begin his RAF victory claims over France. Brzeski would be shot down and captured in May of 1944, liberated in 1945 and returned to England. He would end the war with 7 victories and 3 shared. Brzeski passed away in 1972 at the age of 54.
AXIS:
Frame 1 – (Luftwaffe) - (Fw 190A-5) - Egon Mayer - Egon Mayer had been a Western Front veteran since the Invasion of France, claiming his first victory on 13th Jun 1940. He often flew as the wingman of Helmut Wick during the Battle of Britain where he would claim 3 more victories before being shot down into the channel. JG 2 was withdrawn from the battle and Mayer would not return to the Channel Front until 1941 where in July he would claim his 19th and 20th victory and be awarded the Knight's Cross of the Iron Cross. Mayers victory tally was at 102 when he was killed in action on March 2nd 1944 by USAAF Thunderbolts.
Frame 2 – (Luftwaffe) - (Fw 190A-5) - Gerhard Schopfel - Schopfel transferred from the police force to the Luftwaffe in 1936 and became a squadron leader in JG 26 in 1939. He scored his first kill on May 19, 1940 during the battle of France. Schopfel was awarded the Knight's Cross in September for 20 kills during the Battle of Britain. Schopfel was given command as Geschwaderkommodore of JG 26 in December of 1941. During the Channel Dash he led III/JG 26 into battle intercepting Torpedo attack on the Battleships. Schopfel would be shot down and injured in 1944 then given command of Fighter Leader in Hungary. In 1945 he was captured by Soviet forces and detained until 1949. Schopfel passed away in 2003 at the age of 90.
Frame 3 – (Luftwaffe) - Siegfried Schnell (Fw 190A-5) - Schnell shot down his first enemy aircraft on 14th May during the Invasion of France. He would accumulate 20 victories by November of 1940 and was awarded the Knights Cross. Schnell remained on the Channel Front and during a two day span on July 8th and 9th would shoot down 9 Spitfires bringing his total to 44 victories and the award of Oak Leaves to his Knights Cross. His total would reach 52 during the infamous Channel Dash in February of 1942 and would shoot down 5 Spitfires during the Dieppe battle on August 19th 1942 bringing his total to 71. He would eventually be killed on the Eastern Front on February 25th, 1944 near Leningrad. He was credited with 93 victories.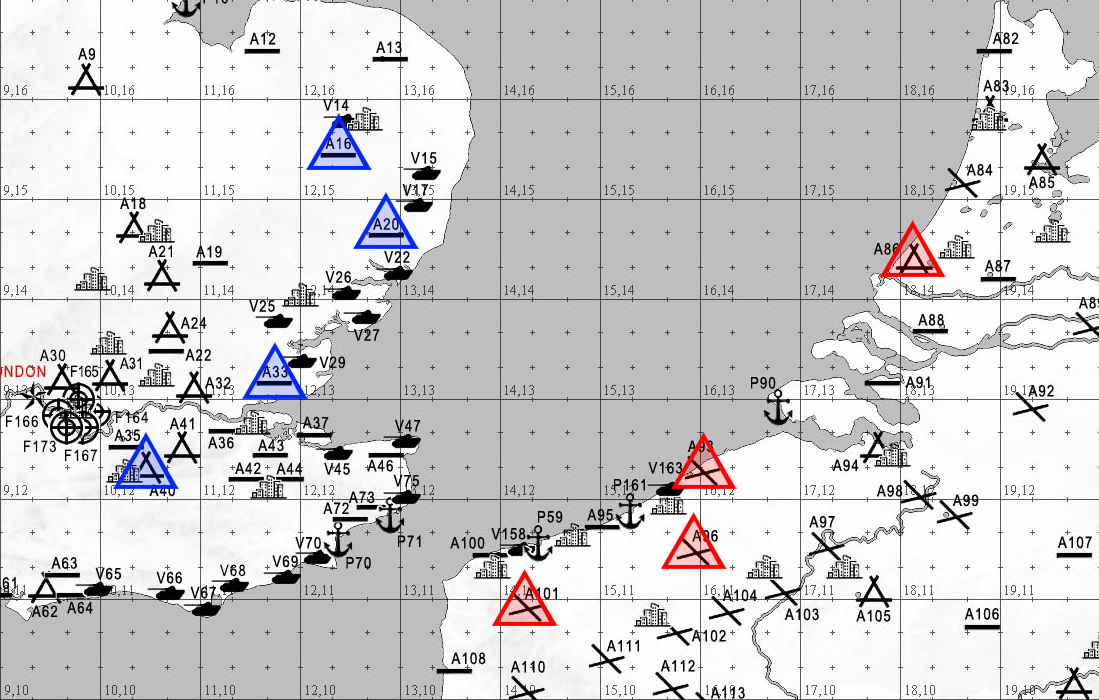 SETTINGS
- BOB40 terrain
- Icon Range – Friendly 3k, Enemy 3k.
- No Radar
- Fighter and Bomber Warning Range - 79200 (15 miles)
- Tower Range – 79,200 (for display to match the above Fighter and Bomber Warning)
- External view for bombers (F3) - On
- Friendly Collisions - Off
- Enemy Collisions - On
- Kill Shooter - Off
- Fuel - 1.0
- Ack - 0.3
- Formations - Enabled
- Bombsite calibration - Main Arena Standard
- Time:
FRAME 1 - 1100
FRAME 2 - 1300
FRAME 3 - 1500
- Object Downtime – full (200)
- Winds - MAX Downdraft 20K
- Clouds - Med5KMed15K
Designed by Nefarious