Conquest at Casablanca: Operation Torch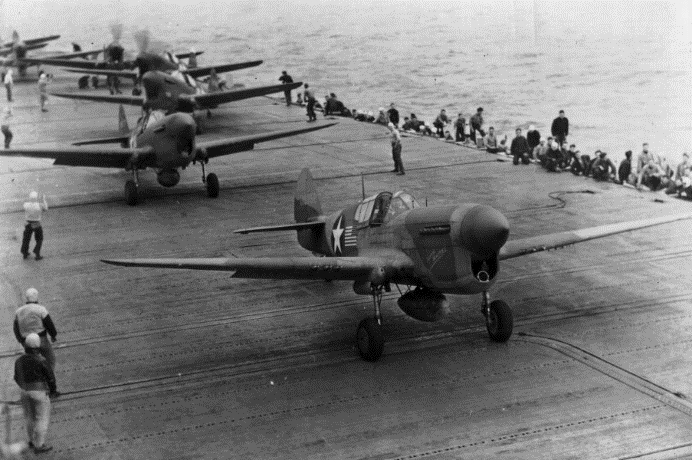 By late 1942, the tide was starting to turn in World War II as the Allies were on the offensive. Operation Torch is largely overlooked when discussing major turning points in the war, however the successful invasion had major effects on the rest of the war. The overall plan for Operation Torch was a very ambitious one. The United States and British Commonwealth would send 65,000 troops from Allied ports to attack three targets on the North African coast: Casablanca, Oran, and Algiers. The entire invasion force consisted of a large mix of airborne regiments, naval fleets, naval air groups, and even USAAF fighter squadrons.
The Vichy French attempted to defend their territory in French Morocco and French Algeria, however they were vastly outnumbered and outgunned. The Vichy French had a small number of destroyers that engaged Allied ships and craft as they landed, but were decimated quickly by the overwhelming amount of Allied naval ships supporting the invasion. Their air force had Dewoitine D.520 and Curtiss Hawk-75 fighters that were inferior to the planes that the United States and British possessed at this point in the war. Fortunately for the Vichy French, they possessed the Douglas DB-7, a variant of the Boston III, which gave an edge in bombing capability.
This particular FSO is aimed to re-create the battle at Casablanca. The initial assault in this area was at Port Lyautey, which fell quickly after constant bombardment from U.S. fleets, led by the battleship USS Massachusetts. The United States ferried P-40Fs across the Atlantic on the escort carrier USS Chenango. The P-40Fs launched from the carrier once Port Lyautey was captured by the Allies, and the port was used as a base of operations for them. Rabat quickly fell in succession as the assault continued at Casablanca. The Jean Bart was a French battleship that was at Casablanca at the time being refitted. It opened fire on Navy destroyers covering the landings, while the USS Massachusetts and SBDs from the carrier USS Ranger focused on crippling the ship since it proved to be a nuisance to the invasion. Due to the surprising nature of the attack and overwhelming odds, Operation Torch only lasted three days, and in the following days, the Allies quickly moved down the coast and inland.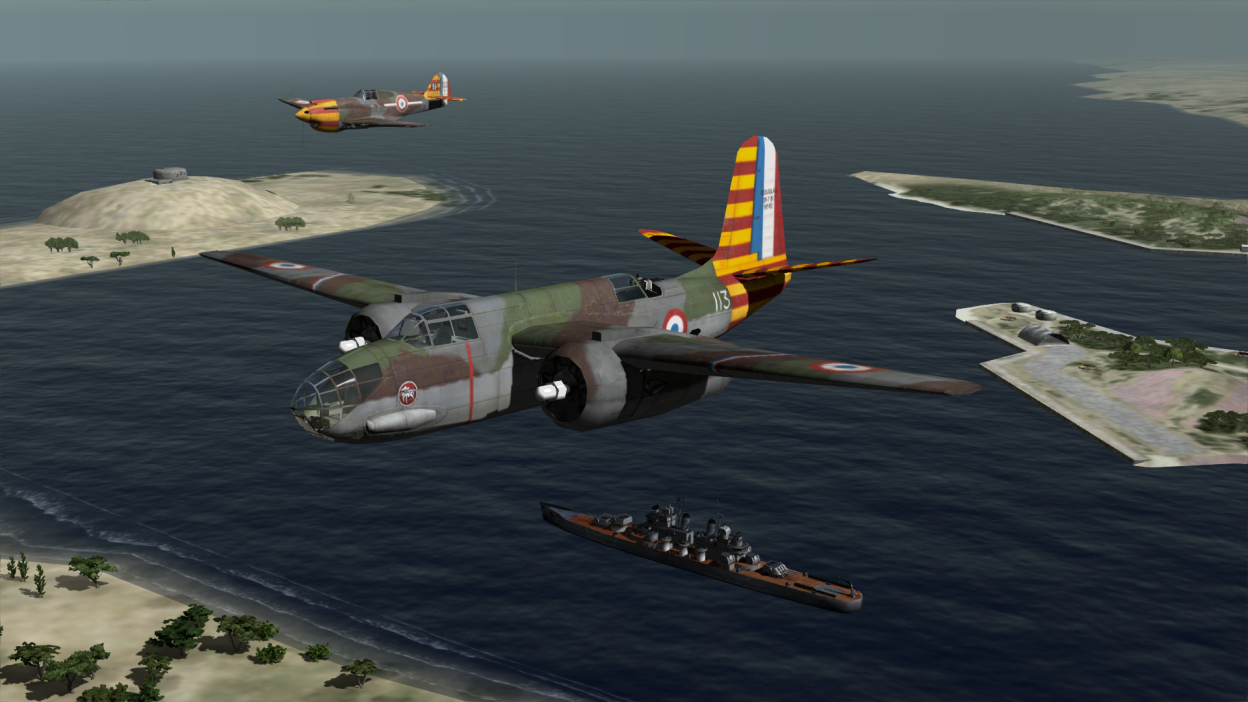 Order of Battle:
US Navy & Army Air Force:

Vichy French:

Curtiss P-40F

MAX 20

Curtiss Hawk-75 (P-40C)

MIN 16

Grumman F4F-4

MIN 16

Dewoitine D.520 (Yak-7b)

MIN 16

Douglas SBD-5

MIN 16

Douglas DB-7 (Boston III)

MIN 16
Loadout Restrictions:
US Navy & Army Air Force:

Vichy French:

Curtiss P-40F

No Bomb Frame 1

Curtiss Hawk-75 (P-40C)

No Bomb/DT

Grumman F4F-4

None

Dewoitine D.520 (Yak-7b)

No Rockets

Douglas SBD-5

No 1600lb AP Bomb

Douglas DB-7 (Boston III)

No Formations
Active Fields:
US Navy & Army Air Force:

Vichy French:

Curtiss P-40F

C73 (Fr1) / A4 (Fr2+3)

Curtiss Hawk-75 (P-40C)

A26/A27

Grumman F4F-4

C71

Dewoitine D.520 (Yak-7b)

A26/A27

Douglas SBD-5

C71

Douglas DB-7 (Boston III)

A26/A27
Field Continuity:
B72 – USS Massachusetts

B74 – Vichy French Destroyers

B75 – Jean Bart

C71 – USS Ranger

C73 – USS Chenango
Notes:
USS Chenango and USS Ranger may not leave starting sectors and will be positioned at CiC's request.
US Navy aircraft may only take off from USS Ranger, but may rearm at USS Chenango, USS Ranger, or A4.
B74 (with BB sunk) will represent Vichy French Destroyers around Casablanca, and B72 will represent the battleship USS Massachusetts north of Port Lyautey. These fleets will not leave their designated zones.
Ordnance carrying aircraft alt cap is 15K. Non-ordnance carrying aircraft alt cap is 20K.
Skins:
The default skins for all aircraft in this setup are historically accurate skins for Operation Torch (Morocco map). Please utilize these as Greebo and Devil5O5 put in a decent amount of time providing these for us!
Scoring:
Jean Bart – 70 pts

CV - 40 pts

CA – 40 pts

FH/BH/VH – 35 pts

DD - 15 pts

Fighters - 2 pts

SBD - 4 pts

DB-7 (Boston III) – 7 pts
Object Hardness Settings:
CV – 4000lbs

CA/Jean Bart – 4000lbs

DD – 1500lbs

FH/BH/VH – 2000lbs

Remaining - MA Standard
Arena Settings:
- Terrain: Morocco

- Fuel Burn: 1.0

- Icons: 3K Friendly/Enemy

- Ack: .3

- Fighter and Bomber warning range: 63360 (about 12 miles)

- Tower range set to 63360 (for display only to match the above setting)

- Haze/Fog: 15 miles

- Radar: Off

- Enemy collisions: on

- Friendly collisions: off

- Killshooter: off

- Time: 0800 (8AM) Game Clock

- Formations: Off

- Formation Autopilot: On

- Bomber calibration: Automatic

- Wind: 0K-2K NO WIND

2K-16K: SW TO NE - Speed 5

16K-20K: S TO N - Speed 10

Special Thanks:

Ghostdancer of the Terrain Team for creating the beautiful Morocco terrain in a matter of days.

Perdweeb and Devil5O5 for providing information on historical representation and assisting with accuracy concerns.

Devil5O5 and Greebo for providing us with some gorgeous skins for both historical planes and substitute aircraft.
Area of Operations: