Wolves Among Sheep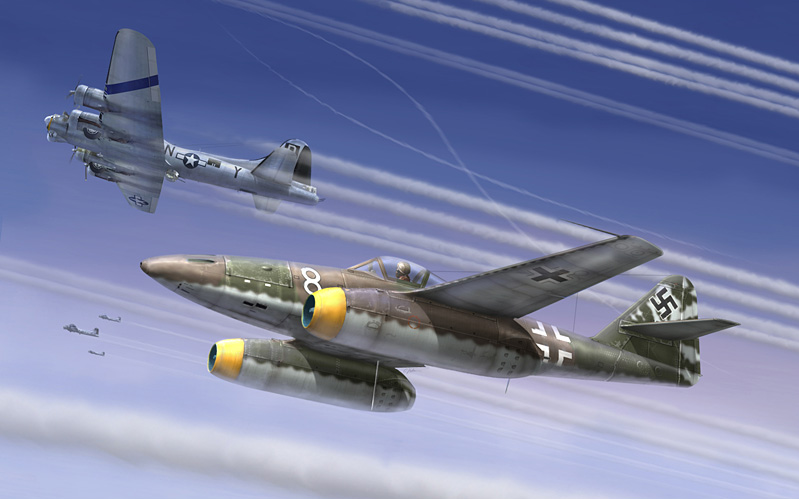 Leading up to the Fall of 1944, the Eighth Air Force was pummeling Germany with daily bombing raids consisting of hundreds of bombers with fighter escort. By June, the German oil industry was a priority target for the bombers, and by the end of 1944 almost all refineries were damaged or destroyed. Additionally, the Allies continued to cripple the aviation industry as well as training facilities. Every day it was normal to see thousands of bombers and fighter escorts fill the skies over Germany. Germany was scrambling to find ways to thwart the consistent Allied strikes. In October 1944, they put forth the world's first jet-powered fighter aircraft, the Me 262, to combat the massive Allied strikes.
Led by Walter Nowotny, Kommando Nowotny was the first combat group to operate the Me 262 at squadron strength. Walter Nowotny's job was to develop proper tactics for a jet-powered fighter unit. Some of the greatest jet fighter aces in history flew in this squadron, such as Franz Schall, Karl Schnörrer, and Georg-Peter Eder. After Nowotny's death on 8 November, the unit was re-designated Jagdgeschwader 7 Nowotny. The Me 262 proved to be an extremely capable aircraft, claiming at least 542 aircraft shot down through the end of the war. However, introduction of the Me 262 proved to be too little, too late as the Allies had already re-captured the majority of the territory Germany had held; and were pounding the German war machine.
This design is meant to capture a few days in the life of both Allied and Axis pilots, as they will be pitted against each other in the skies over the Third Reich. Targets areas being attacked during each frame are similar to the days chosen in this setup.
Allied: 52% / Axis 48%
Order of Battle:
United States Army Air Force

Luftwaffe

P-51D

-

Bf 109G-14

MIN 20

P-51B

MIN 12

Bf 109K-4(G-10)

MAX 24

P-47D25

MIN 20

Fw 190A-8

MIN 20

B-17G

MIN 12

Me 262A-1

MAX 4

B-24J

MIN 12

-

-
Active Fields:
United States Army Air Force

Luftwaffe

P-47D25

A1/A4 Air Spawn (15K)

Bf 109G14

A35/A37/A67/A98/A120

P-51B

A1/A4 Air Spawn (15K)

Bf 109K-4(G-10)

A35/A37/A67/A98/A120

P-51D

A1/A4 Air Spawn (15K)

Fw 190A-8

A35/A37/A67/A98/A120

B-17G

A1/A4 Air Spawn (15K)

Me 262A-1

A121

B-24J

A1/A4 Air Spawn (15K)

-

-
Loadout Restrictions:
Air to ground ordinance will be disabled for all fighters.
Notes:
Bombers may fly between 15K and 23K en route to target.
Fighters have an altitude cap of 30K. Harsh downwind above 30K.
Scoring:
B-17G/B-24J - 6

Fighters - 2

Me 262A-1 - 15

City Building - 1

Area of Operations:
Special Thanks:
Nefarious and Ghostdancer for the work on the fantastic new map, Rhnland!
Perdweeb and Devil5O5 for assistance with balance and historical accuracy concerns.
Arena Settings:
- Terrain: Rhnland

- Fuel Burn: 1.0

- Icons: 3K Friendly/Enemy

- Ack: .3

- Fighter and Bomber warning range: 63360 (about 12 miles)

- Tower range set to 63360 (for display only to match the above setting)

- Haze/Fog: 15 miles

- Radar: Off

- Enemy collisions: on

- Friendly collisions: off

- Killshooter: off

- Time: 0800 (8AM) Game Clock

- Formations: On

- Formation Autopilot: On

- Bomber calibration: Automatic

- Wind: 0K-10K NO WIND

10K-20K: SW TO NE - Speed 5

20K-30K: S TO N - Speed 10