Summer Siege: Leningrad 1941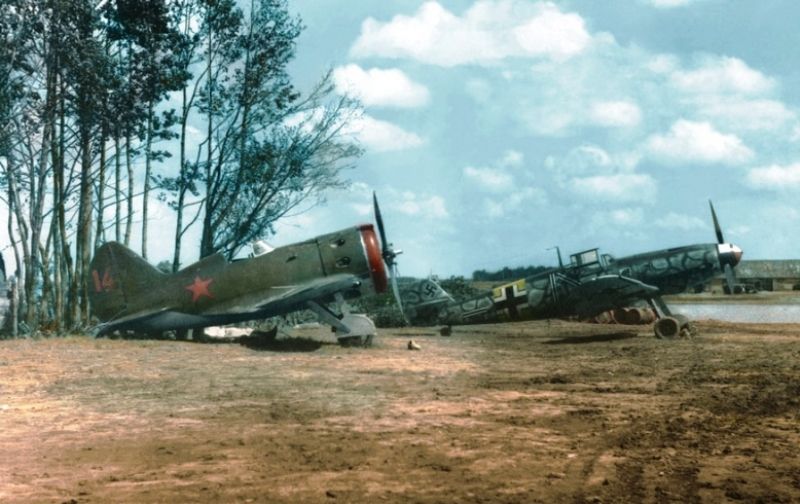 The war in the east began on June 22, 1941 with Operation Barbarossa. This three pronged invasion saw German forces make great gains against the Soviets in the opening weeks. By August, Army Group South was closing on Kiev, Army Group Center had encircled Smolensk, and Army Group North had moved through the Baltic states and had it's sights set on Leningrad.
The Soviet air force (VVS) had suffered numerous losses in this opening phase. Jagdgeschwader 54 claimed 624 Soviet aircraft alone by August 1st when Max-Hellmuth Ostermann achieved Jg 54's 1000th kill of the war. For the push towards Leningrad, Jg 54's 109F's were bolstered by the additions of II/Jg 52's and II/Jg 53's with Bf 109F's, as well as III/Jg 27 with older 109E's. Another Gruppe of 109E's was available for Jabo sorties in the form of II(Schlact)/Lg 2. But the lion's share of jabo duty was to be handled by the Bf 110 units of I and II/Zg 26 as well as II/Skg 210, with their famous hornet head markings. Prime targets of the Luftwaffe were the Soviet airfields and the rail lines from Moscow.
The heavy losses taught the Soviets very hard lessons and the pilots who lived into August were instrumental in reforming the VVS into a formidable defensive force. For the protection of Leningrad, most air units in Northwest Russia were consolidated into the 7th IAK. But other air units were subordinated to ground armies or the Baltic Sea Fleet. All told, there were no less than 39 Soviet fighter divisions in the area of Leningrad in August 1941. While most of these units were outfitted with the obsolescent I-16, the speedy MiG-3 also saw extensive action near Leningrad. LaGG-3 and Yak-1 fighters were in much shorter supply. Despite apparent deficiencies in equipment and experienced crews, some Soviet units achieved success beyond their losses. 19 IAP, with a mix of MiG's and I-16's, shot down 66 German planes for only 44 losses through Sept. 29. 159 IAP claimed 46 kills for 34 losses over the same period in 2688 individual sorties.
Allies: 50% / Axis: 50%
Order of Battle:
VVS

Luftwaffe

Yak-7b

MAX 32

Bf 109F-4

MAX 36

MiG-3 (C.205)

MIN 18

Bf 109E-4

MIN 18

I-16

MIN 18

He 111H

MIN 10

Bf 110C-4b

MIN 10-MAX 18
Ordnance Restrictions:
VVS

Luftwaffe

Yak-7b

No Rockets

Bf 109F-4

No DT

MiG-3 (C.205)

No 20mm Package

Bf 109E-4

None

I-16

No Rockets

He 111H

No 1800kg Bomb

Bf 110C-4b

Must Use 2x250kg Bombs
Notes:
Jabo Alt Cap is 14K (while carrying ordnance).

Bomber Alt Cap is 14K.

Fighter Alt Cap is 18K.

I-16s will be light on fuel, proper fuel management and delayed takeoff may be necessary.
Scoring:
Fighters - 2

Bombers – 2

Hangars - 15
Arena Settings:
- Terrain: finland

- Fuel Burn: 1.0

- Icons: 3K Friendly/Enemy

- Ack: .3

- Fighter and Bomber warning range: 52800 (about 10 miles)

- Tower range set to 52800 (for display only to match the above setting)

- Haze/Fog: 15 miles

- Radar: Off

- Enemy collisions: on

- Friendly collisions: off

- Killshooter: off

- Time: 1000 (10AM) Game Clock

- Formations: On

- Formation Autopilot: On

- Bomber calibration: Automatic
Area of Operations: