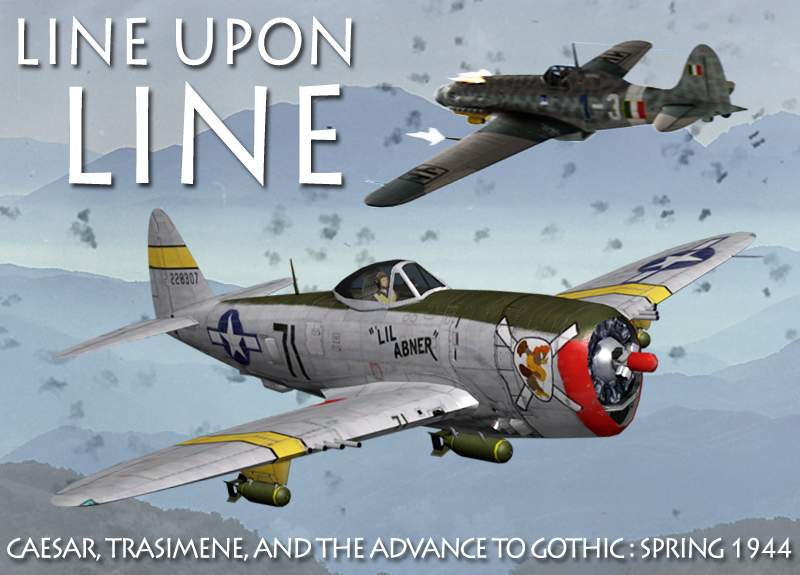 When the Allied armies in Italy finally broke through at Anzio and Cassino in the Spring of 1944, the next inevitable objective would be the capture or destruction of the German 10th Army in Italy. However, in one of the great Allied blunders of the second world war, 5th Army Commander Mark Clark would turn his forces to Rome instead of cutting off Kesserling's line of retreat.
On May 30th, the Caesar C Line was breached by the US 5th Army and the road to Rome was wide open. With the 5th US Army's focus on Rome, Kesserling and the German 10th Army forces escaped North and met up with the German 14th Army for a fighting retreat behind the Trasimene Line. During his fighting retreat that summer, Kesserling used the Arno Line to consolidate his forces along the newly formed Gothic Line to prepare for the Allied advance.
In June, the US 12th Tactical Air Support Command and the RAF Desert Air Force based in Sardinia, Corsica and mainland Italy, flew sortie after sortie in support of the US 5th and British 8th Armies as they advanced up the Italian boot. Air combat was sporadic as the focus turned to supporting the troops on the ground and was not as heavy as it was during the Anzio fighting, but some pilots on both sides continued to see success. After the Invasion of Normandy, the last Luftwaffe units began to return to Germany leaving the Aeronautica Nazionale Repubblicana to fight on alone in Northern Italy.
In this FSO we set the stage for final fights between the Allied Air Forces and the Luftwaffe and Aeronautica Nazionale Repubblicana after the breakouts at Anzio and Cassino to the Liberation of Rome.
PLANE SET: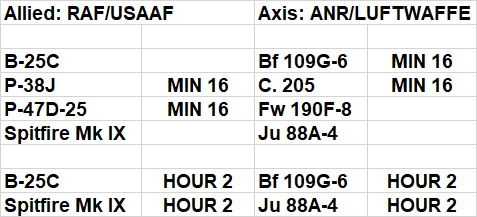 Special Rules -
Fw 190F-8 - PB-1 Panzerblitz Rockets Disabled.
P-38J - 1000lb bombs disabled.
P-47D-25 - 1000lb bombs disabled.
AIRCRAFT SCORING: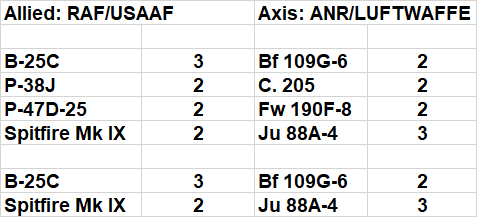 OBJECT SCORING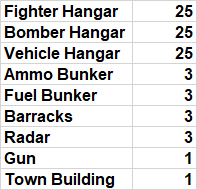 ACE MISSIONS
Each side will have one mandatory Ace mission per frame. These frames will represent notable pilots of the time and theater. One pilot from each side will be designated an "Ace" Pilot. They must fly the Aces listed aircraft.
They will be scored as follows.
Ace Pilot = 20 Points
Ace Pilot Kills = 20 Points
So for example if an Ace Pilot is shot down they are worth 20 points to the other side. Likewise, every victory an Ace Pilot lands they will be rewarded 20 points.
ALLIED:
Frame 1 – (RAF) – (Spitfire Mk IX) Geoffrey Baynham - Flight Lieutenant Baynham joined the RAF in 1938 and after the war began in 1939 found himself in Egypt flying Gloster Gladiators. After a short time in Fairey Battles, his squadron switched to Spitfires, shooting down his first three aircraft in one mission in 1941. In 1943 he would be posted to Egypt again flying Spitfires, eventually seeing action over Sicily where he would bring his total kills to 6. Baynham would pass away in South Africa in 1990 at the age of 75.
Frame 2 – (USAAF) – (P-38J) Tom Maloney - Captain Maloney joined the the 27th Fighter Squadron, 1st Fighter Group in late 1943. Maloney's first victory came on his 22nd mission on March 28th, 1944. On May 27th, he was promoted to 1st Lt and 4 days later scored his 5th victory achieving Ace Status. Promoted to Captain on August 17th, two days later Maloney was shot down on mission supporting the invasion of southern France. Severely injured by a landmine, Maloney evaded capture for 9 days before being rescued. Maloney shot down 6 enemy aircraft during WW2 and retired as a Major. Maloney passed away in 2008 at the age of 85.
Frame 3 – (RAF) - (Spitfire Mk IX) Brian Kingcome - Wing Commander Kingcome joined the RAF in 1936 and fought in the Battle of France and Britain. In 1942 he took part in the mission to sink the Axis Cruisers attempting to escape through the English Channel to Germany. In 1943 Kingcome was sent to North Africa to lead 244 Wing. By the end of his stay with the wing, he had brought his total personal tally to 8 destroyed, three shared, five probable and 13 damaged enemy aircraft. Kingcome passed away in 1994 at 76.
AXIS:
Frame 1 – (ANR) – (C.205) Luigi Gorrini - Gorrini flew with the Italian Air Corps in the Battle of Britain, Libya and Tunisia. Gorrini's first kill in 1941 over Greece was in a Fiat CR42 and then he progressed to the Macchi C.200, C.202, and C.205. Gorrini began flying the 205 in the defense of Rome and quickly became a master, shooting down P-38s, P-47s, B-17s and B-24s tallying 19 victories. Gorrini would fly for the Aeronautica Nazionale Repubblicana and later the postwar Italian Air Force, he would pass away in November of 2014.
Frame 2 – (Luftwaffe) (Bf 109G-6) Johannes "Macky" Steinhoff - "Macky" Steinhoff was already a 150+ Ace when he took over Jagdeschwader 77 as Gescwhaderkommodore in Italy. Steinhoff's prestigious career saw him in action in every front of the war, including 12 total kills in Sicily and Italy. Steinhoff would be awarded the Swords to the Knight Cross in July of 1944 and finish the war flying Jets with JG 7 and JV44. He was badly burned in a jet crash in April 1945, but would live to be 80, passing away in 1994.
Frame 3 – (ANR) (C.205) Major Adriano Visconti started out in the Regia Aeronautica but after the Italian surrender joined the Aeronautica Nazionale Repubblicana. He was given command of the 1st squadron of the 1st Gruppo Caccia. Visconti got his first kill with the ANR on January 3rd, 1944. He flew the C.205 and Bf109 until the ANR disbanded in 1945. Visconti was killed by communist partisans after surrendering on April 29th 1945.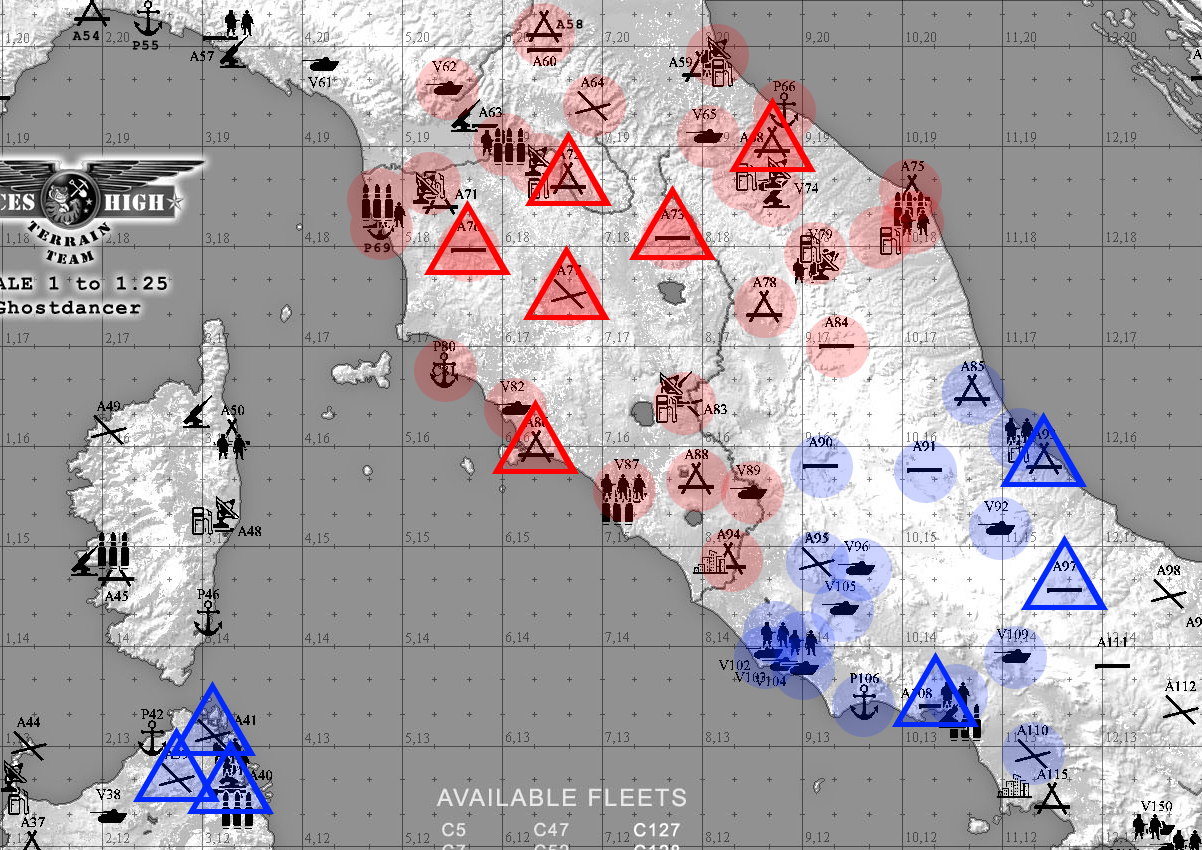 SETTINGS
- Italy terrain
- Icon Range – Friendly 3k, Enemy 3k.
- No Radar
- Fighter and Bomber Warning Range - 79200 (15 miles)
- Tower Range – 79,200 (for display to match the above Fighter and Bomber Warning)
- External view for bombers (F3) - On
- Friendly Collisions - Off
- Enemy Collisions - On
- Kill Shooter - Off
- Fuel - 1.0
- Ack - 0.3
- Formations - Enabled
- Bombsite calibration - Main Arena Standard
- Time:
FRAME 1 - 0800
FRAME 2 - 1200
FRAME 3 - 1600
- Object Downtime – full (200)
- Winds - MAX Downdraft 24K
Designed by Nefarious