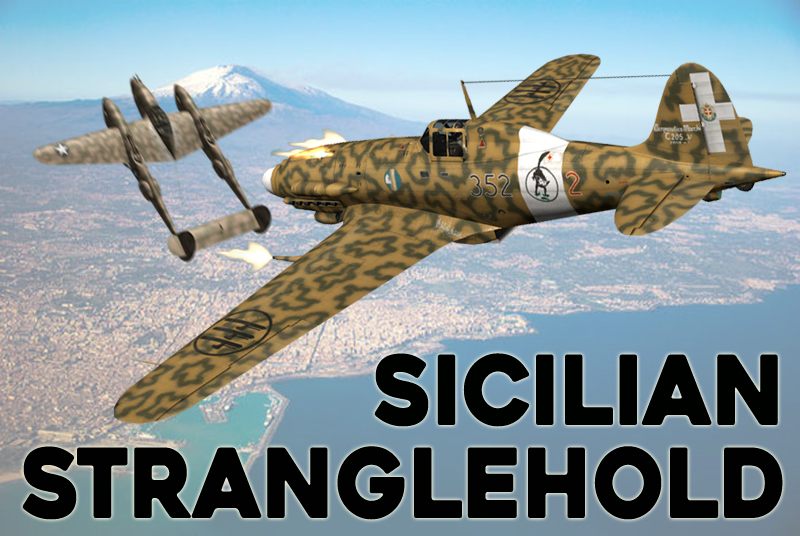 By the time Allied forces landed in Sicily on July 10th and 11th, 1943 the air war over the island itself had raged on for over 2 months. The battle for the skies over the Italian island began almost immediately after the destruction of Afrika Korps in Tunisia. The surrender of German and Italian forces on May 12th resulted in 130,000 Germans and 120,000 Italians captured along with German General Von Arnim and 25 other Axis generals.
The following month on June 11th, the fortress island of Pantelleria was captured and a new base of operations for Allied fighters and bombers was established outside of Malta. Now, the 19 Axis airfields in Sicily were under attack by a full assortment of Allied aircraft and the Luftwaffe and Regia Aeronautica were forced off the island. The Allies had won the sky and now were in position to land their forces on the island.
Notable squadrons during the battle for Sicily were the 99th Pursuit Squadron and the 332nd Fighter Group, America's first all black fighter squadrons. The Tuskegee Airmen would be awarded their first Distinguished Unit Citations for their actions over Sicily from May to June. Jagdgeschwader 77, commanded by Johannes "Macki" Steinhoff was the main Luftwaffe fighter group taking on the Allied onslaught. Despite insurmountable odds, JG 77, IV./JG 3, and JG 53 still managed to put up a valiant defense.
The fight for the island of Sicily would last until August 17th when the last Axis units evacuated onto the Italian peninsula. The invasion of Italy would begin a few short weeks later on September 3rd. This FSO recreates the fight for Sicily after the launch of Operation Husky.
PLANE SET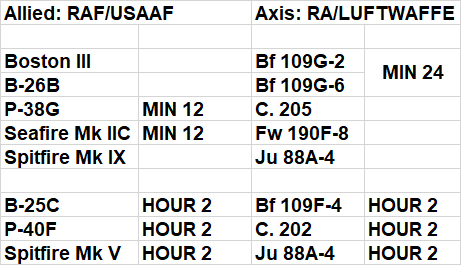 *SPECIAL RULES*
Fw 190F-8 - PB-1 Panzerblitz Rockets Disabled.
P-38G - 1000lb bombs Disabled.
AIRCRAFT SCORING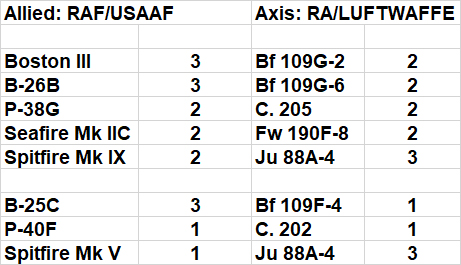 OBJECT SCORING
SHIP SCORING

Each side will have one mandatory Ace mission per frame. These frames will represent notable pilots of the time and theater. One pilot from each side will designated an "Ace" Pilot. They must fly the Aces listed aircraft.
They will be scored as follows.
Ace Pilot = 20 Points
Ace Pilot Kills = 20 Points
So for example if an Ace Pilot is shot down they are worth 20 points to the other side. Like wise, every victory an Ace Pilot lands they will be rewarded 20 points.
ALLIED:
Frame 1 – (RAF) – (Spitfire Mk IX) Geoffrey Baynham - Flight Lieutenant Baynham joined the RAF in 1938 and after the war began in 1939 found himself in Egypt flying Gloster Gladiators. After a short time in Fairey Battles, his squadron switched to Spitfires, shooting down his first three aircraft in one mission in 1941. In 1943 he would be posted to Egypt again flying Spitfires, eventually seeing action over Sicily where he would bring his total kills to 6. Baynham would pass away in South Africa in 1990 at the age of 75.
Frame 2 – (USAAF) – (P-38G) William "Dixie" Sloan - Lieutenant Colonel Sloan joined the Army Air Corps in 1942 and was one of the last flying Staff Sergeants before being commissioned as a 2nd Lieutenant. Sloan was sent to North Africa with the 96th FS, 82nd FG, where he would become the highest scoring P-38 ace in the MTO with 12 victories. Sloan was awarded the Air Force Cross for shooting down 2 enemy fighters and driving the other away on Jul 5th, 1943. Sloan would also go on to fly 50 missions in the Berlin Airlift. Dixie Sloan would pass away in Xenia, Ohio in 1999.
Frame 3 – (RAF) - (Spitfire Mk IX) Brian Kingcome - Wing Commander Kingcome joined the RAF in 1936 and fought in the Battle of France and Britain. In 1942 he took part in the mission to sink the Axis Cruisers attempting to escape through the English Channel to Germany. In 1943 Kingcome was sent to North Africa to lead 244 Wing. By the end of his stay with the wing, he had brought his total personal tally to 8 destroyed, three shared, five probable and 13 damaged enemy aircraft. Kingcome passed away in 1994 at 76.
AXIS:
Frame 1 – (Luftwaffe) (Bf 109G-6 or G-2) Johannes "Macky" Steinhoff - "Macky" Steinhoff was already a 150+ Ace when he took over Jagdeschwader 77 as Gescwhaderkommodore in Italy. Steinhoff's prestigious career saw him in action in every front of the war, including 12 total kills in Sicily and Italy. Steinhoff would be awarded the Swords to the Knight Cross in July of 1944 and finish the war flying Jets with JG 7 and JV44. He was badly burned in a jet crash in April 1945, but would live to be 80, passing away in 1994.
Frame 2 – (Regia Aeronautica) – (C.205) Luigi Gorrini - Gorrini flew with the Italian Air Corps in the Battle of Britain, Libya and Tunisia. Gorrini's first kill in 1941 over Greece was in a Fiat CR42 and then he progressed to the Macchi C.200, C.202, and C.205. Gorrini began flying the 205 in the defense of Rome and quickly became a master, shooting down P-38s, P-47s, B-17s and B-24s his kill count reaching 19 victories. Gorrini would fly for the Aeronautica Nazionale Repubblicana and later the postwar Italian Air Force, he would pass away in November of 2014.
Frame 3 – (Luftwaffe) – (Bf 109G-6 or G-2) Wolf-Udo Ettel - Ettel joined the Luftwaffe in November of 1939 and completed flight training in September 1941. In 1942 he was posted to JG 3 in Russia where he quickly rose in the ranks and victories. Reaching 120 victories by May of 1943, Ettel was shot down and escaped back to friendly lines earning the Knights Cross. Ettel was then transferred to III/JG 27 in Greece and later Italy where he would shoot down at least 4 aircraft in three days from July 14th - 16th. On July 17th, 1943, Ettel would be shot down by enemy ground fire. His total victories stood at 124 kills.
***PLEASE USE MAP INCLUDED IN OBJECTIVES***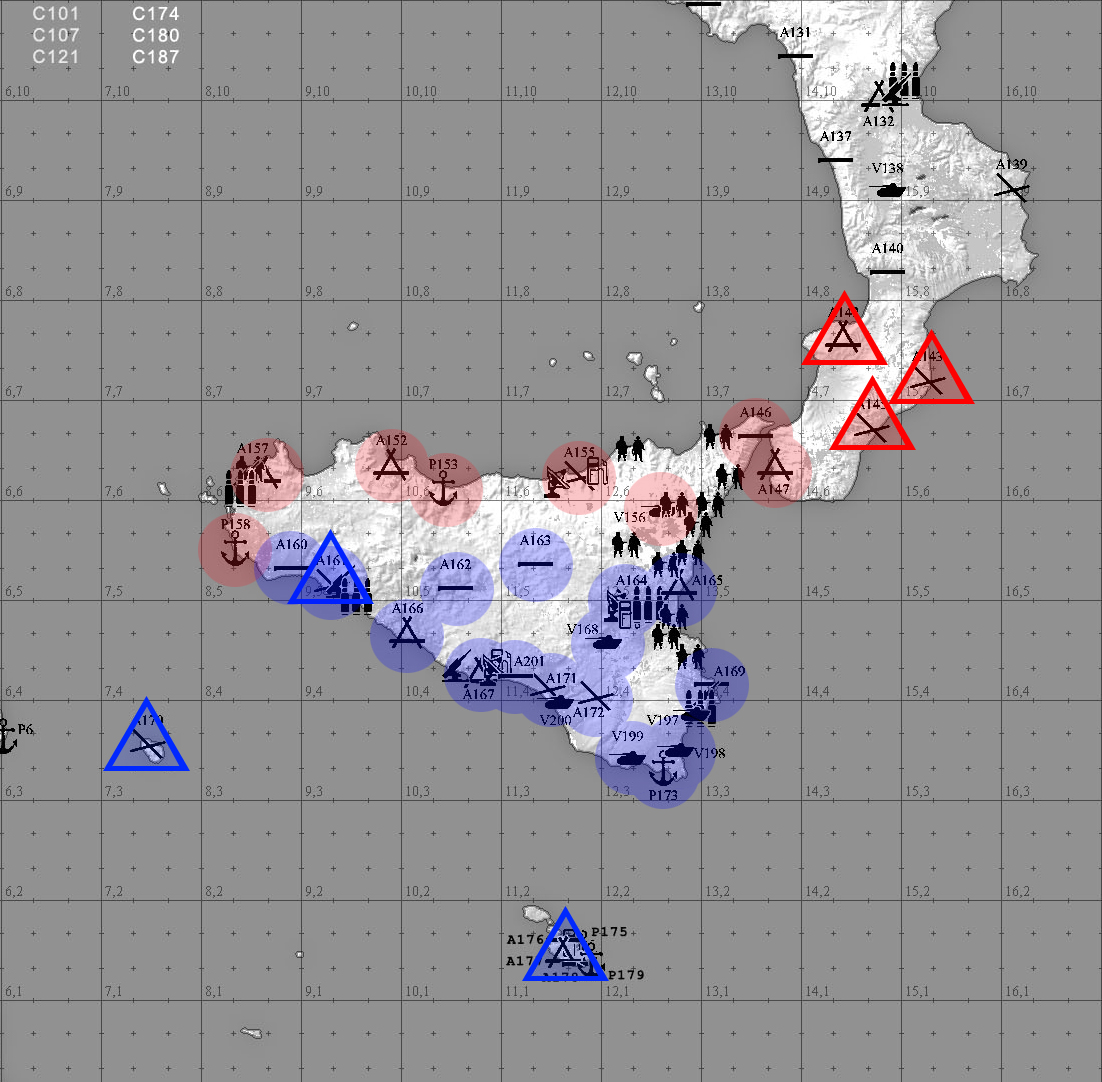 - Italy terrain

- Icon Range – Friendly 3k, Enemy 3k.
- No Radar
- Fighter and Bomber Warning Range - 79200 (15 miles)
- Tower Range – 79,200 (for display to match the above Fighter and Bomber Warning)
- External view for bombers (F3) - On
- Friendly Collisions - Off
- Enemy Collisions - On
- Bombsite calibration - Main Arena Standard
- Object Downtime – full (200)
- Winds - MAX Downdraft 24K