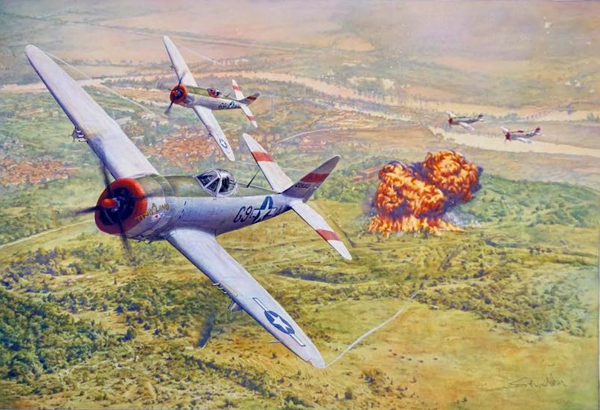 After Operation Market Garden failed to secure a bridgehead over the Rhine River, the Western Allies' plan to break out into the industrial Ruhr Valley and end the war by Christmas was stifled. As October turned to November and the weather began to close in, the Allied push to the Rhine was starting to bog down.
In the Netherlands, 21st Army Group had captured Nijmegen and Eindhoven and secured the Scheldt Estuary. Just to the Southeast, the US First Army had finally captured the German city of Aachen in late October suffering heavy casualties, but was now bogged down in bloody fighting for the Hurtgen Forest. In the Lorraine area of France, General Patton and the US 3rd Army were fighting for the city of Metz.
During this time, the US Ninth Air Force, and the British 1st and 2nd Tactical Air Force were instrumental in providing Close Air Support to the Allied troops all along the Western Front. When they weren't providing Close Air Support to the troops on the ground, they were running missions into Germany interdicting supply trucks, locomotives, and armored columns, destroying the enemy's ability to resupply and reinforce.
Despite the situation, the Luftwaffe still had some fight left in them and the fighter bombers of the 9th Air Force continued to find heavy engagements as well as sightings of the new German jet fighter, the Me 262. In this FSO, we set the stage for the 9th Air Forces tactical air war over France and Germany in late October and November 1944.
PLANE SET: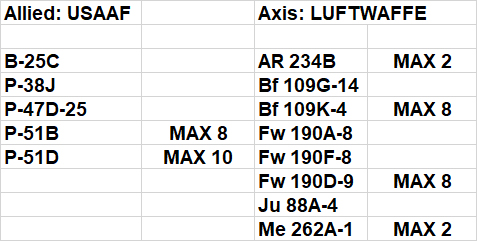 22K ALT CAP FIGHTERS - ALL FIGHTERS
16K ALT CAP - ALL BOMBERS
SPECIAL RULES:
All Allied Fighters - 1,000lb Bombs Disabled
AIRCRAFT SCORING: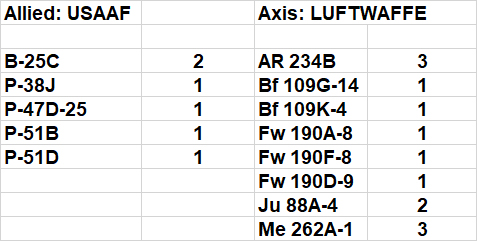 OBJECT SCORING: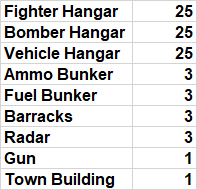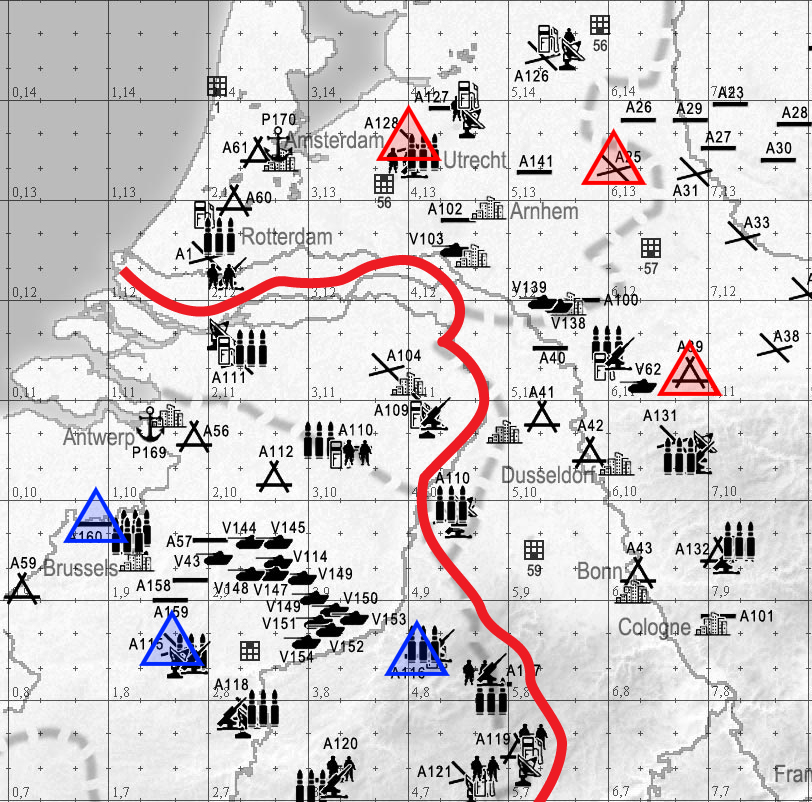 SETTINGS
- Germany terrain
- Icon Range – Friendly 3k, Enemy 3k.
- No Radar
- Fighter and Bomber Warning Range - 79200 (15 miles)
- Tower Range – 79,200 (for display to match the above Fighter and Bomber Warning)
- External view for bombers (F3) - On
- Friendly Collisions - Off
- Enemy Collisions - On
- Kill Shooter - Off
- Fuel - 1.0
- Ack - 0.3
- Formations - Enabled
- Bombsite calibration - Main Arena Standard
- Time:
FRAME 1 - 0900
FRAME 2 - 1200
FRAME 3 - 1500
- Object Downtime – full (200)
- Winds - MAX Downdraft 22K
- Clouds - Med5KMed15K
Designed by Nefarious