Disaster in the Dutch East Indies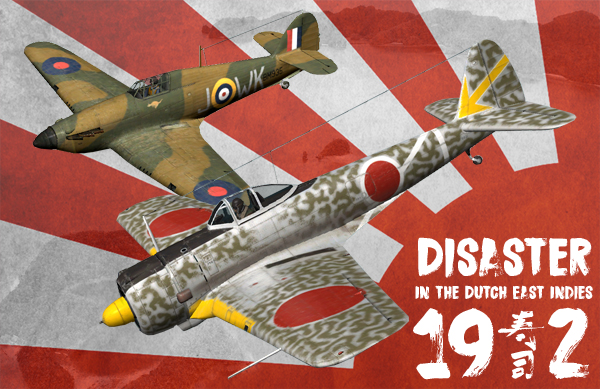 The Japanese advance down the Malayan peninsula and the capture of Singapore along with 130,000 Allied troops on February 15th was a stinging Allied defeat only a few months into the Pacific war, but there was no time to sit and dwell on the failure. The day before the surrender of Singapore, the Japanese had landed in Sumatra at Palembang, capturing the main airfield and securing the oil refineries using airborne troops. The British, Commonwealth, and Dutch forces were again retreating, this time to Java. ABDA (American, British, Dutch and Australian) forces were now going to make a last stand effort to protect the island from Japanese capture.
On January 29th, a small number of USAAC P-40E's of the 17th Pursuit Squadron landed in Java to help bolster the British, Dutch, New Zealand and Australian forces flying mostly Brewster Buffalos and Hawker Hurricane IIs. The Japanese Army was now mainly flying the new Ki-43 and the Japanese Navy was now operating off Java with the superior A6M2. Fighting was tough going for the Allies, often outnumbered, they still managed produce ace pilots across all the countries serving on Java. Major naval battles occurred in the Java Sea and Sunda Strait on February 27th and 28th and ABDA forces lost several warships destroying any major naval presence they once had.
With no naval force to stop the convoys of Japanese troops, the Japanese began the Invasion of Java on February 28th with a landing of the Western side of the island. 2 more landings would occur on March 1st, one of them on the Eastern side of Java just 50 miles West of Surabaya. The Allies made valiant attempts to stop the invasion but by now were running out of aircraft and pilots. The US pilots handed their few remaining aircraft over to the Dutch and were evacuated back to Australia. Dutch forces would surrender Java to the Japanese on March 8th and they would continue to fight on Sumatra until March 28th.
This FSO is set during those last few days on Java, early March 1942.
PLANE SET

*SPECIAL RULES*
- Only aircraft with minimums (MIN) listed are required.
- Bombs disabled for Hurricane II, P-40E, A6M2, and Ki-43-II
- 4x 20mm Cannons Disabled for Hurricane II
- 4x 50 cal MG loadout disabled for B-239
AIRCRAFT SCORING

OBJECT SCORING
SHIP SCORING

ACE MISSIONS
Each side will have one mandatory Ace mission per frame. These frames will represent notable pilots of the time and theater. One pilot from each side will designated an "Ace" Pilot. They must fly the Aces listed aircraft. They will be scored as follows.
They will be scored as follows.

Ace Pilot = 20 Points
Ace Pilot Kills = 20 Points

So for example if an Ace Pilot is shot down they are worth 20 points to the other side. Like wise, every victory an Ace Pilot lands they will be rewarded 20 points.
ALLIED:
FRAME 1: Ricky Wright – (Hurricane II) – Wright was a Battle of Britain veteran with 605 Squadron credited with 6 victories and awarded the DFM before the end of 1940. Wright was transferred to India and later flew off the HMS Indomitable to bolster the defense of Singapore with new Hurricanes. Within days his squadron CO was killed and Wright was promoted to CO of No 232 Squadron. He would evacuate to Sumatra and then Java before he was captured and spent the remainder of the war as a POW. He was awarded the DFC after the wars end. Wright passed away in 2007.
FRAME 2: George Kiser (P-40E) – Kiser came into the Dutch East Indies campaign with 2 kills already under his belt from the Japanese attack on the Philippines. Kiser and the 17th Pursuit Squadron would take their P-40Es from Australia to Java, arriving on January 25th. Kiser would add three more victories making him the first Ace of the 17th PS. He would go onto score more 9 more victories in P-40s and fly another combat tour in P-47s with the 9th Air Force. Kiser rose to the rank of Major and passed away in 1991.
FRAME 3: Ivon Julian – (Hurricane II) – Julian was born in New Zealand and joined the RAF in 1940. He was posted to 232 Squadron and flew his Hurricane II off the Indomitable to replenish the Singapore defenses. Julian flew from Singapore, Sumatra and finally Java in mid-February. He was promoted to command 242 squadron after higher ranking officers were withdrawn to Australia. Julian shot down 5 enemy aircraft and damaged and several others including 1 destroyed on the ground. When Java was captured he became a prisoner for the remainder of the war. He was awarded the DFC in 1946 after his return home. He passed away in New Zealand in 1999.
AXIS:
FRAME 1: Sadaaki Akamatsu – A6M2 – Akamatsu was already an 11 victory ace in China when the Pacific War broke out. He participated in the initial attacks on Clark Field and claimed several damaged and shared aircraft in the Philippines campaign. From there he would fight in the Dutch East Indies scoring victories over Surabaya. He also participated in the raid on Darwin. Akamatsu would go on fighting all the way to the end in the defense of Japan. He was credited with 27 victories at wars end. Akamatsu passed away in 1980.
FRAME 2: Hiroshi Onozaki – Ki-43-II – Onozaki was a veteran of the Manchurian campaign but failed to see combat. He was then transferred to South East Asia for the start of the Pacific war where he would see his first action and his first kill over Malaya in December of 1941. He was the top ace of the 59th Sentai and claimed 8 Hurricanes and a Bristol Blenheim over Java. Onozaki would serve in New Guinea and be evacuated due to illness. He survived the war as an instructor in with a total of 14 kills.
FRAME 3: Junichi Sasai – A6M2 – Sasai was part of the infamous Tainan Air Group and saw action first in the Philippines on the raid to Luzon but was forced to abort due to engine troubles. The Tainan AG then headed to Java where Sasai saw considerable action claiming a Buffalo and P-40E of the 17th PS. Sasai would not become an ace until May of 1942 while fighting in the Solomons. Sasai would be recognized for 27 aerial victories although he personally claimed 54. Sasai was killed on August 26, 1942 on a mission to attack Guadalcanal.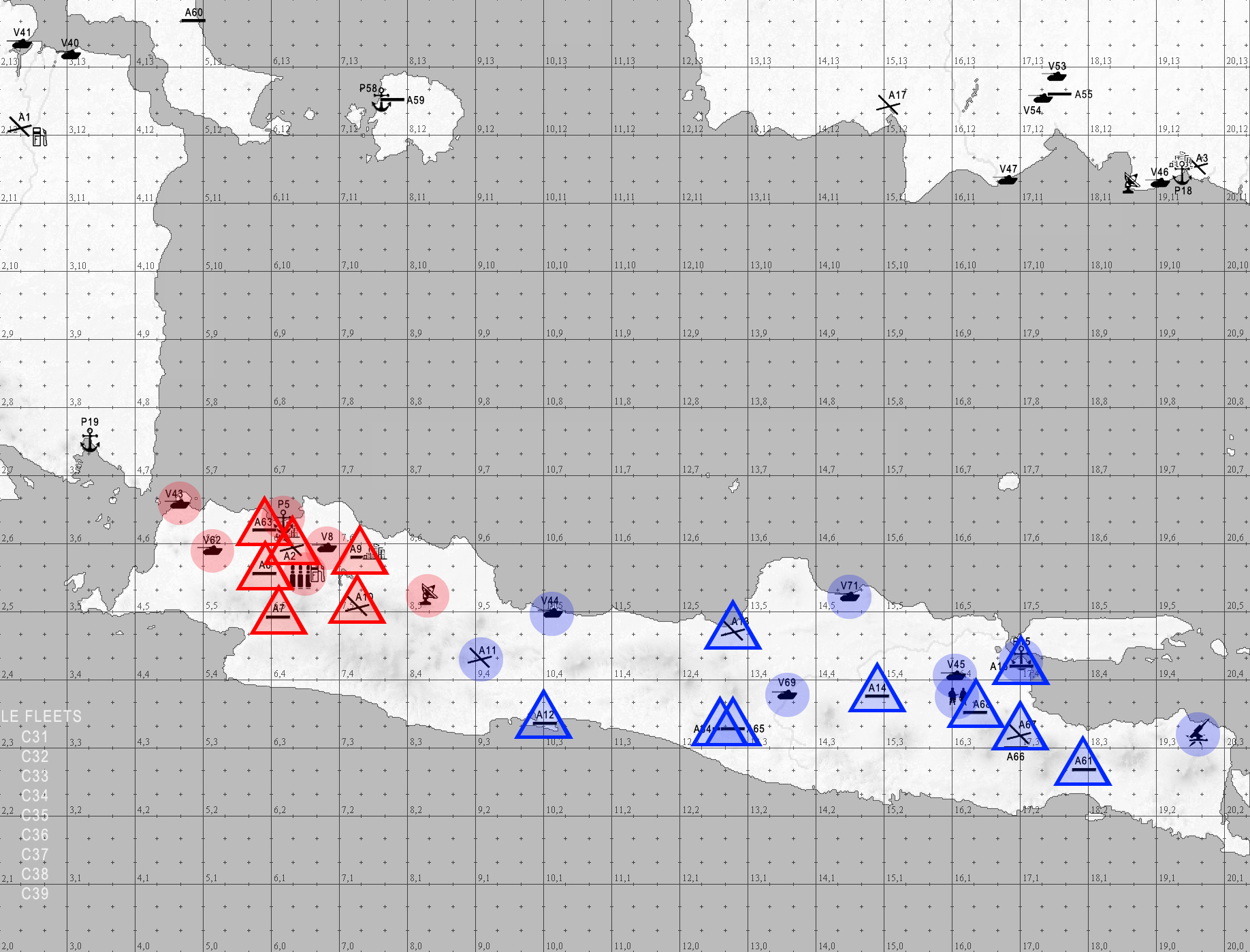 SETTINGS
- JAVA42 terrain (NEW)
- Icon Range – Friendly 3k, Enemy 3k.
- No Radar
- Fighter and Bomber Warning Range - 79200 (15 miles)
- Tower Range – 79,200 (for display to match the above Fighter and Bomber Warning)
- External view for bombers (F3) - On
- Friendly Collisions - Off
- Enemy Collisions - On
- Kill Shooter - Off
- Fuel - 1.0
- Ack - 0.2
- Formations - Enabled
- Bombsite calibration - Main Arena Standard
- Time:
FRAME 1 - 0800
FRAME 2 - 1200
FRAME 3 - 1600
- Object Downtime – full (200)
- Winds - None

Designed by Nefarious